I am currently based in Milan, Italy.
I would love to hear from you.
+39 327 53 17 868
VAT No. 02662970900
© 2018 Valeria Cherchi, all rights reserved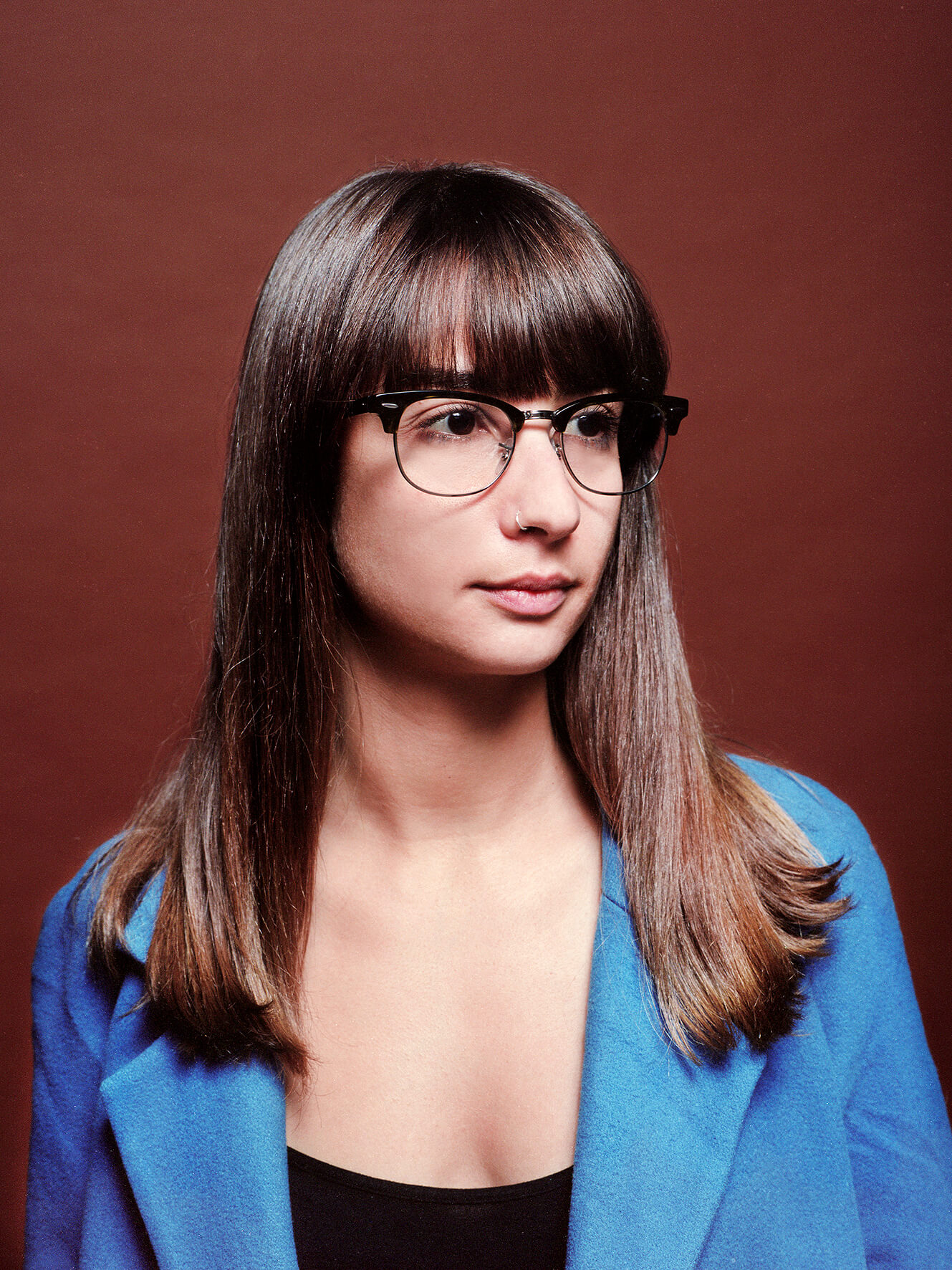 Portrait by Federico Ciamei
Biography
Valeria Cherchi is a photographer based in Milan. She was born and raised in Sardinia, Italy.
She graduated from the Sapienza University of Rome and did a Masters at the University of the Arts, London researching the intersection between the personal, documentary photography and fashion. In 2016 she attended a one year Masterclass mentored by Simon Norfolk at the ISSP working on how to photograph history.
Her work over the past years has been themed around the meaning of the 'unspoken' within different social issues. Her research is driven by the need of exploring memories and history connected to her personal experience. She is interested in true and tangible character-driven stories, often told by combining photography and text.
In her most recent project 'Some of you killed Luisa,' she examines small Sardinian communities as an example of a civil context that has opted to shape its social structure by choosing omerta.
In 2018 Valeria was named in British Journal of Photography's annual 'Ones to Watch'. 
Education
2020 # Taking Your Time: Expanding Long-Term Visual Projects, Magnum workshop with Moises Saman and Paul Moakley : exploring the production, editing and publishing of long-term multimedia projects
2018 # Nikon-NOOR Academy, masterclass with Bénédicte Kurzen, Sanne De Wilde, & Francesco Zizola
2018 # Fact Checking, workshop with Nicolas Niarchos
2016-17 # ISSP International Masterclass, mentored by Simon Norfolk
2013 # MA Fashion Photography
University of the Arts London
2010 # BA in Industrial Design and Visual Communication
The Sapienza University of Rome
Exhibitions
SOLO
2020 # Anatomia del Silenzio, Museo Nivola – Orani, IT
2013 # I Used to – Fondazione Logudoro Meilogu, Museo d'Arte Contemporanea FLM. Banari, IT
GROUP
2020 # Addis Foto Fest – Addis Ababa, ET
2019 # Athens Photo Festival, Hellenic Centre for Photography – Αthens, GR
2019 # LOOKING ON, MAR – Museo d'Arte della città di Ravenna – IT
2018 # FUTURES NARRATIVES, Unseen – Amsterdam, NL
2018 # GPF2018, Guernsey Photography Festival – UK
2018 # SO FAR, Landskrona Photo Festival – SE
2018 # FUTURES (Projection), PhotoESPAÑA – Madrid, ES
2018 # BJP Ones To Watch, Copeland Gallery – London, UK
2018 # SHOWOFF, Krakow Photomonth – Krakow, PL
2018 # ACTIVISM – Fotografia Europea – Reggio Emilia, IT
2016 # MODUS OPERDANDI – Milan, IT
2015 # SIFEST OFF, Savignano Immagini Festival – IT
2015 # OF PEOPLE AND PLACES – London, UK
2013 # SALON13 – Photofusion. London, UK
2013 # MA13, London College of Fashion – London, UK
Talks:
2019 # Athens Photo Festival, Hellenic Centre for Photography – Αthens, GR
2019 # The Phair, Ex Borsa Valori – Turin, IT
2019 # Women in Focus: Documentary and Citizenship.The European Centre for Documentary Research – Cardiff, UK
2018 # Recyclart @ CENTRALE for Contemporary Art – Bruxelles, BE
2018 # Extra Fort @ Le Vecteur – Charleroi, BE
Acknowledgements:
2019 # SELECTED, Plat(t)form 2019, Fotomuseum Winterthur – CH
2019 # NOMINATED, C/O Berlin Talent Award
2019 # NOMINATED, 6×6 Global Talent Program
2019 # NOMINATED, Joop Swart Masterclass
2018 # SELECTED, British Journal of Photography, Ones To Watch
2018 # SHORTLISTED, Lucie Foundation Emerging Artist Scolarship
2018 # SELECTED, Futures-Photography
2018 # FINALIST, Guernsay International Photographic Competition
Selected links
Selected clients
Internazionale, Hemispheres Magazine, Wallpaper* City Guide, Freunde von Freunden, Wonderland, Flaunt, Tank, Universal Records, NTS Radio, Hyperdub Records, LVMH, UCLA, Guess, QVC, BCBG, EyeEm, Mutina.
Selected publications
BOOKS: Some of You Killed Luisa, The Eriskay Connection (Upcoming May 2020)
The British Journal of Photography, 1000 Words Magazine, Photopaper, Else, Pismo, Panorama, Vogue.it, YET, Blink, Dossier Journal, Contemporary Standard